Tom Halbleib , Mayor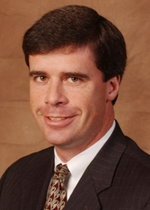 Tom is a native Louisvillian, was awarded a B.S. in Business by Miami University in 1987 and a J.D. by the University of Kentucky College of Law in 1991. He is a member of Stites & Harbison, PLLC. He currently serves on the Louisville Zoo Foundation Board of Directors and the Tri-State Minority Supplier Development Council Board of Directors.
Tom is married to Edith Halbleib, who is the Jefferson County Master Commissioner. They have two children, Tommy and Grace.
---
Larry Stickler , Commissioner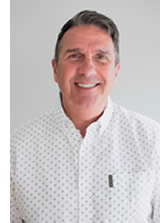 Larry Stickler was elected Commissioner in Glenview in 2020. Larry has lived in Glenview since 2012 with his wife, Ann and son, Chase. He has two older daughters, Shelby, who lives in Louisville, and Meagan, who lives in Crown Point, Indiana, and three granddaughters. Larry credits his Commissioner victory to his trusty Great Dane, Clarabelle, who has become a Glenview favorite.
Larry grew up near Starlight, Indiana, and holds his B.S. from Indiana University, Kelley School of Business. Larry held several leadership positions in marketing and sales in the sporting goods industry, with Igloo products, Huffy Sports, and Gerber Blades. After those roles, his career took an entrepreneurial turn, and he founded Evacugear and served as President. Most recently, he has worked in real estate, investing and remodeling unique properties. (Yes, he owns a train) Larry holds his real estate broker's license, and has connected with many in the community during his time with Kentucky Select Properties.
Larry has been an avid cyclist and bike racer, with a national title. His future ambition is to turn that passion into work introducing youth in the community to cycling.
---
Bruce Merrick , Commissioner
Bruce has been a Kentucky resident for more than 50 years. He is a founder of Dant Clayton Corporation in 1979 and currently serves as Chairman. Bruce has served on 6 corporate boards and 11 not-for-profit boards including past board chair at Actor's Theatre and the Speed Art Museum. His love for Western Kentucky University resulted in board leadership and fundraising for multiple construction projects on the campus
---
Deborah M. Reiss, Commissioner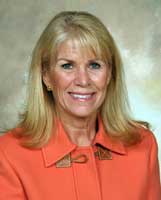 Debbie is a native of Louisville. She received a B.S. in Nursing from the University of Ky. and completed her MSN at Bellarmine University. She practiced nursing at Kosair Children's Hospital for fifteen years and taught five years at the Bellarmine School of Nursing. Her husband, Steven, is a neurosurgeon and they have lived in Glenview since 1995 where they raised their 3 daughters. Debbie has served on the Catholic Charities Board, Baptist Hospital Foundation Board and the Glenview Conservancy Board. She presently owns a small business (Carlisle) and enjoys playing tennis.
Debbie looks forward to serving as newly appointed commissioner to help preserve the beauty and uniqueness of Glenview as well as its historical landmarks.
---
Nanette Tafel, Commissioner
Nanette Tafel was born in Louisville in 1954; she attended St. Agnes School and Sacred Heart Academy. She graduated from Briarcliff College in Briarcliff Manor, New York in 1976 and married James E. Tafel that same year. They began their married life in Jane Allen's carriage house in Glenview. After moving to St. Matthews for six years, they moved back to Glenview in 1986 where they raised their three sons, Cody, Addison and George.
Nanette has been selling real estate for the past 13 years, recently joining the newly formed Kentucky Select Properties. You may have seen her walking the streets of Glenview last year as she trained for the Marine Corps Marathon. She covered about 30 miles per week, giving her a firsthand look at city issues, drainage, road repair, storm damage, signage and property maintenance. Her husband served in the 90's as City Safety Director, so she is well acquainted with the workings of city government. Commissioner Tafel serves as the Finance Commissioner.
---
Kacy DeVore, City Clerk Administrator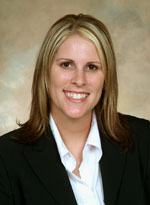 Kacy DeVore was born in Louisville, Kentucky in 1984. She graduated Cum Laude from Sullivan University in December 2006 with a Bachelors of Science in Business Administration with a concentration in Management and a second Bachelors of Science in Business Administration with a concentration in Marketing.
Kacy has served as City Clerk since January 2007.